Judging Seminar February 10, 2018 Training Day February 11, 2018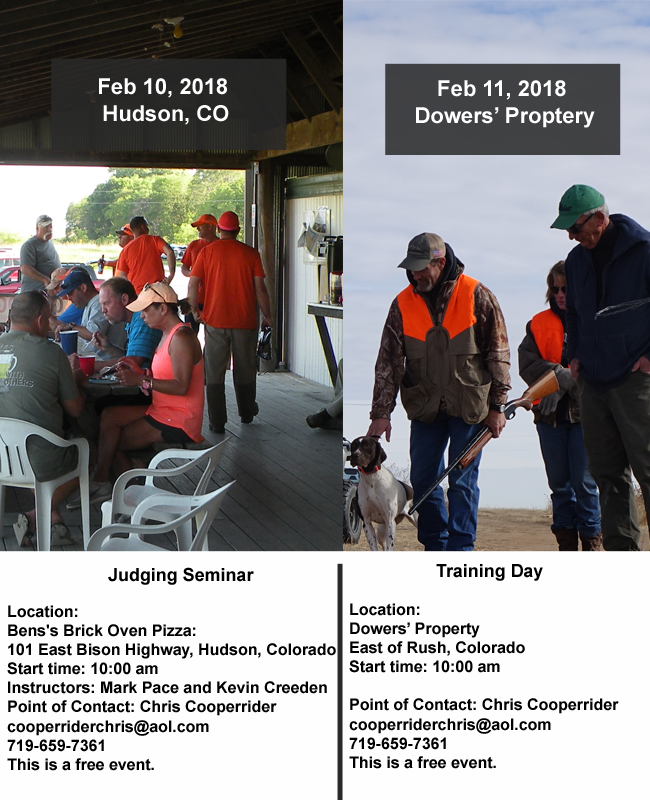 See the Trial Schedule for more information on upcoming trials.
Please note that the seminar and training day are in two different locations. These events are open to everyone.

Judging Seminar Location: Bens's Brick Oven Pizza: 101 East Bison Highway, Hudson, Colorado
Start time: 10:00 am
Instructors: Mark Pace and Kevin Creeden
Point of Contact: Chris Cooperrider

cooperriderchris@aol.com
719-659-7361
This is a free event.
Our Next Training Day/Mock Trial is
February 11, 2018.
ENTER YOUR DOGS BY CLICKING HERE

$25 per run (multiple runs may be available)
Location: Dowers' property; click for directions and a map
Start time: 10:00 am
Bring your own lunch.
General Format:
Electronic collars may be used (Neck, flank, or both)
3 birds will be planted per dog, 6 birds for a two dog brace.
Max time in field per dog/run 30 min
Handler may pull their dog at any time
After your dog has moved three birds the handler should work on backing, field handling or leash their dog and exit the field.
Dogs may run solo or with a brace mate. Max of 2 dogs per field.
Handlers won't run back to back. Handlers may run their dogs together if they choose to. However the default draw will opt to have a handler's dogs not run against each other.
We will do a draw 2 days before the event.