Rocky Mountain High Point
High Point 2016-2017
The 2016-2017 High Point will be awarded to two dogs that tied. Both these dogs battled until the very last trial of the season. Both handlers and dogs have demonstrated true excellence in pointing dog competitions.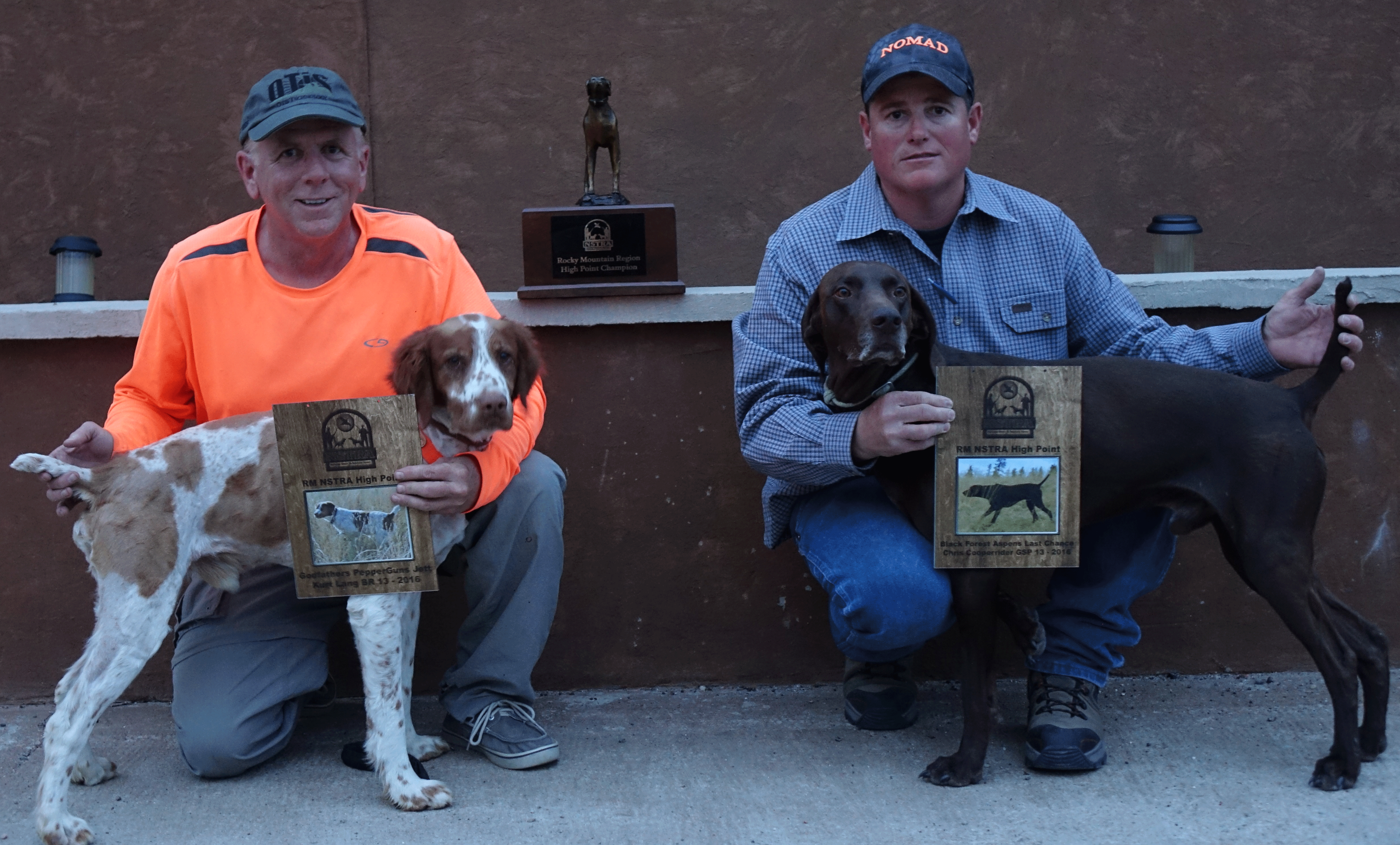 Black Forest Aspen's Last Chance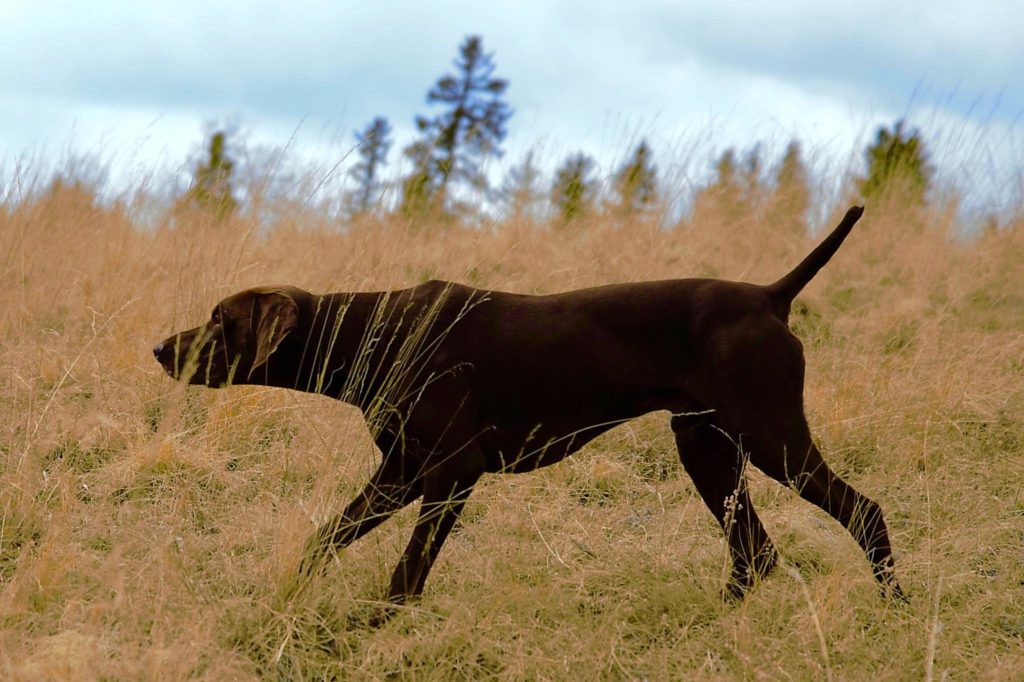 Chance had 10 placements throughout the 2016-2017 season. Two 1st place wins, two 2nd place, four 3rd place, and two 4th place. Congratulations to to Chris Cooperrider and his dog Chance on an excellent an excellent season.
Godfathers Pepper Guns Jett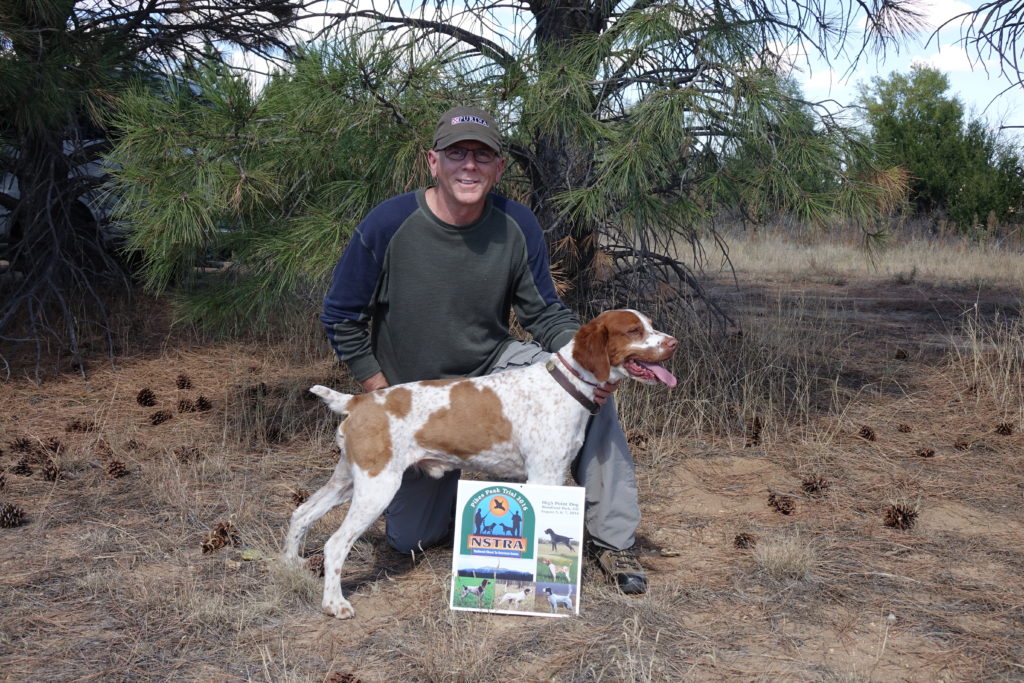 During the 2016-2017 season Jett trailed well in the Rocky Mountain Region as well as Utah and Kansas. He placed in eleven different times throughout the season! Jett had two 1st place wins, seven 2nd place, and two 4th place. Congratulations to Kurt Lang and is dog Jett on an excellent season
High Point History
Year/Dog/Breed/Points/Owner-Handler
2015/CH H P Duke/EP/11/David Duchesneau
2014/CH Black Forest SAR Athena/GSP/8/Rodney Hoover-Andy Taylor
2013/CH Black Forest SAR Athena/GSP/8/Rodney Hoover-Andy Taylor
2013/2XCH Black Forest Star/GSP/8/Mark Pace Sr.
2012/2XCH Black Forest Bart/GSP/12/Mark Pace Sr.
2011/3XCH BBB's Lucky Strike/Brit/Steve Chang
2010/7XCH Lock N Load Fancy Ticked Cash/GSP/21/Mike Weis
2009/3XCH BBB's Lucky Strike/Brit/17 /John Lord-Steve Chang
2008/4x CH Black Forest Brodie/GSP/15/Mark Pace JR
2007/2X CH Godfather's Rocketeer/Brit/15/Steve Chang
2007/3X CH Hi-Prairies American Graffiti/GSP/15/Bohn-Chang
2007/2X CH Black Forest Brodie/GSP/15/Mark Pace Jr.
2006/5x Ch Lock n Load Fancy Ticked Cash/GSP/19/Mike Weis
2005/5x Ch Southplatt Gangster/Brit/19/Steve Chang
2004/3x Ch Prairie Sundance Pure/EP/34/Steve Hazlett
2003/5x Ch Southplatt Gangster/Brit/17/Steve Chang
2002/6x Ch Prairie John Fiddlin/EP/22/Mark Justice
2001/10x Ch Eagle Becki/EP/26/Bill Hickey
2000/6x Ch Prairie John Fiddlin/EP/25/Mark Justice